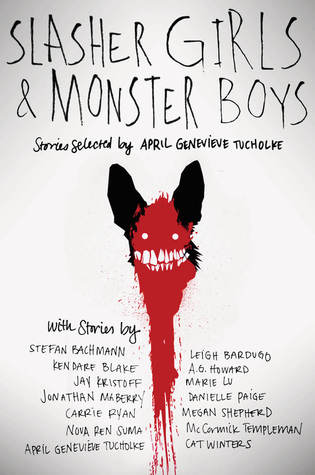 Slasher Girls & Monster Boys
YA, Horror, Paranormal
Release Date: August 18th, 2015
Dial Books
Goodreads
★★★ .5
A host of the smartest young adult authors come together in this collection of scary stories and psychological thrillers curated by Between the Devil and the Deep Blue Sea's April Genevieve Tucholke.

Each story draws from a classic tale or two—sometimes of the horror genre, sometimes not—to inspire something new and fresh and terrifying. There are no superficial scares here; these are stories that will make you think even as they keep you on the edge of your seat. From bloody horror to supernatural creatures to unsettling, all-too-possible realism, this collection has something for any reader looking for a thrill.
A fun fact about me is that I'm quite the horror aficionado. Growing up Stephen King was a writer who I just couldn't get enough. He writes in that way that injects just pure fear in me without relying on old and heavily over exaggerated tactics like the over use of gore. King has really given me a deep appreciation of the genre and is why I know there is so much potential in it. In YA though I've yet to have much luck with it, finding the few examples of horror I've read to be quite
disappointing
.
Slasher Girls & Monster Boys is a collection of short stories that overall I found to be quite well written, despite enjoying some over others. I wouldn't classify the anthology as what one would typically call traditional horror (I found some of the stories to be more akin to thrillers) but found that it more so to be a quality collection that evoked a lot of feelings I associate with well written horror- whether it that slow build up of dread or that innate unsettled emotion.
I have decided to briefly review each story from the collection to give you a better idea of what to expect and to showcase my varying viewpoints on each story.
The Birds of Azalea Street by Nova Ren Suma 5/5
This was the opener to the anthology and omg it was the perfect introduction for what was to come. It was honestly one of my favorites from the collection. This story does seem to read more as of thriller but Suma's writing will undeniably still give you chills. She brings the story to a climax in such a way that I felt as if I was holding my breath the entire time.
In the Forest Dark & Deep by Carrie Ryan 4.5/5
This one definitely captured my attention. It's a very dark and twisted Alice in Wonderland inspired story that will have you on the edge of your seat. There are some more gruesome scenes in this short story; which coupled with the unsettling writing and brilliant imagery will have you thinking about the story far past it's ending.
Emmeline by Cat Winters 3/5
I adore Winters as a writer and I suppose I was just expecting a little more out of this one. The writing of course was beautiful but I just found the story didn't fit into the collection as well as the others.
Emmeline
was of a sad tale than anything else and unfortunately didn't stick in my mind as some of the other stories did.
Verse Chorus Verse by Leigh Bardugo 2/5
This one didn't work for me. I didn't feel the fear the author obviously intended but instead felt confused, especially in regards to the ending. I had a lot of questions. Gotta give the short story creativity though, it wasn't something I was expecting by any means.
Hide and Seek by Megan Shepard 4/5
This story is definitely more thriller than horror, with it telling the story of a girl trying to beat Death at it's own game. I didn't find it scary/creepy/unsettling in the least but I still loved it. The writing immersed you straight away. You also couldn't help but root for the MC and even feel a deep connection to her despite
Hide and Seek
being just a short story.
The Dark, Scary Parts and All by Danielle Paige 1/5
Noooope. This one was a heavy romance and any inkling towards horror was pretty much thrown away for a Twilight like paranormal romance. With a typical plain Mary Sue MC, mean girls for no reason and the annoying romance Paige's story was definitely a no go for me.
The Flicker, The Fingers, The Beat, The Sigh by April Genevieve Tucholke 1.5/5
I've honestly read/watched this story so many times. Like all of the other short stories in this collection Tucholke's is based off of other tales, however the difference lies in that I don't think she really brought anything new to the table.
Fat Girl with A Knife by Jonathan Maberry 2.5/5
ZOMBIES. I found this one to have a lot more humor in it which makes sense considering it's inspiration, which just so happens to be one of my favorite movies. The humor instead of dark and witty came off more contrived with a few nice lines. While I found this one mindlessly entertaining it didn't really have an impact on me and nor did even the basic gore included.
Sleepless by Jay Kristoff 4.5/5
While I'm quite familiar with the source material I still managed to enjoy this one quite a bit due to the unique twists and turns added. Kristoff uses an interesting format of telling
Sleepless
which sets it apart from the other stories in the anthology. I think it worked very well and managed to make me even more engrossed.
Sleepless
definitely had the creep factor to it, and what I love most is how it was a slow burn from a sort normalcy to definitely something more sinister.
M by Stefan Bachmann DNF
I honestly don't know about this one or if I was in the proper mood to read it when I did. I've read a couple of other reviews and everybody else seems to really enjoy it so maybe it just was me.
The Girl Without a Face by Marie Lu 5/5
LOVED this one. This story is one that managed to instill honest terror in me, it was super intense and definitely got my heart pounding. And oh my god that the very last couple of pages really left a lasting impact on me. I personally found
The Girl With No Face
to be the most scary story in this collection.
A Girl Who Dreamed of Snow 2/5
Mehhhhhh. Honestly this story was one I felt very unattached to. It didn't evoke any strong feelings at all- whether positive or negative. I really didn't feel anything towards it all and right after finishing I was actually kind of glad to be done with it.
Stitches by A.G. Howard 4/5
This one had the most of the gore factor I think but I do believe it was handled well overall. There was only a few times when I was questioning its need haha. It was not only very detailed, not only with the imagery but also the story itself was very well thought out and I found myself surprised by the ending.
On the I-15 by Kendare Blake 3.5/5
With this story being the final of the anthology, I think it definitely ended on a good note, however I must admit that the ending of
On the I-15
did feel a very rushed and thrown together. However I found the characterization and story in this one to be quite amazing, especially for such a short story. I honestly could see this story as a full fledged novel and one I would adore.
Overall I quite enjoyed this anthology. It always makes me happy to see horror in YA and I do hope to see more as it is such an genre with unexplored potential.
Read more »